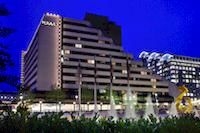 Hyatt Regency Bethesda
1 Bethesda Metro Ctr, Bethesda, MD 20814
1-800-252-7142
Need Help?
Call 1-800-252-7142
About Hyatt Regency Bethesda
A chic, modern hotel in Bethesda, the Hyatt Regency Bethesda offers guests the best of two worlds. The central Bethesda location allows easy exploration of the beautiful city's destinations, while the proximity to D.C. and the location above the Metro line means that guests can easily access the top businesses and attractions in Washington, D.C., as well as all the popular dining and shopping options.
Special Rates: Hyatt Regency Bethesda
Centrally located in the heart of Bethesda, the Hyatt Regency Bethesda hotel offers luxurious accommodations in close proximity to a variety of Washington, D.C. destinations, NIH and business centers. With Metro access directly beneath this Bethesda hotel, guests will find that attractions, restaurants, shopping and nightlife entertainment are all within easy reach of the hotel. Also nearby are Bethesda and Washington, D.C. golf courses, jogging trails and public parks.
The spacious, attractively appointed guestrooms and suites offer all the accoutrements for modern, elegant living, including mahogany furnishings, marble bathrooms, premium bedding atop luxurious Hyatt Grand Beds, iHome stereos with iPod docks, 32" televisions, Portico bath essentials, on-demand entertainment and beautiful downtown or courtyard views. For the comfort of business travelers, the rooms also boast oversized work areas, data ports, WiFi access and dual-line phones with speakerphone and voicemail.
The Hyatt Regency Bethesda boasts over 20,000 square feet of flexible meeting space for everything from Washington DC metropolitan area weddings to board meetings. Both indoor and outdoor spaces are offered, and the amenities available for those planning to host a function in the meeting spaces of this Bethesda hotel are professional catering services, use of the 24-hour self-service business center and complete event planning services.
Beyond the beautiful guestrooms and meeting facilities, the Hyatt Regency Bethesda offers an array of comforts. A heated indoor pool, hot tub and sauna are available, as well as Yoga Away programs for the guest who wants to pamper themselves or maintain a workout routine while on the road. Anyone interested in relaxing in a comfortable atmosphere with a signature cocktail might enjoy visiting Concours Lounge, while hungry guests are sure to enjoy visiting the hotel's classy, renowned Bethesda steak restaurants, Morton's Steakhouse.
Amenities
390 spacious guestrooms with classic décor


Hyatt Grand Beds™ / iHome stereo with iPod dock


Generous work desk / seating area


Wi-Fi / Deluxe bath with Portico bath products


24-hour self-service business center


Fully Equipped Stay Fit fitness center


Indoor Pool and Whirlpool


Yoga Away


Morton's The Steakhouse


Daily Grill Restaurant


Concours Lobby Lounge


Our Low Price Hotel Guarantee
We are confident that our hotel prices are guaranteed to be the lowest rate you can find. If you find a lower rate for your hotel on another site, we'll refund the difference to you. Book with us and enjoy total peace of mind!
If you find a lower rate at any time up until hotel's cancellation window, we'll match the price. The lower price you find needs to be for the same dates, length of stay and room type.
---
Found a better price?
The lower price you found must be available on another website directed to consumers in the same locale, and must be for the same hotel, dates and room type.
If you used a coupon/discount voucher when you made your original booking, you can still claim under the guarantee. We will use the total discounted price you paid and compare this to the lower price you found in order to calculate your refund.
If you have made a booking which cannot be cancelled — whether it is non-refundable or if you are already within the cancellation window for the hotel — then you can't claim under the guarantee. Bookings that were part of a specific promotion (e.g. 3 nights for the price of 2) are also excluded from claiming under the guarantee.
Once we have confirmed that you are due a refund under the guarantee we will issue the refund to the card you paid with at the time of booking. We will process your refund immediately but it may take your bank up to 30 days to process it and for it to show on your statement.
Why book with us?
WashingtonDC.com doesn't charge cancellation fees
We're just a phone call away: 1-800-252-7142 or 00.800.1610.1690 (Europe)
Explore Nearby
1

4928 Cordell Ave

2

7820 Norfolk Ave.