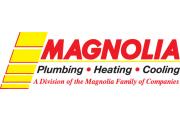 Edit
Magnolia Plumbing, Heating & Cooling
600 Gallatin St NE
, Washington
, DC
20017
|
Directions
Hours:
Mon-Sun:
12:00 pm - 12:00 am
/
About Magnolia Plumbing, Heating & Cooling
When your plumbing system is not working properly, the simplest tasks can become an inconvenience. And when your heating and cooling system is not performing as you'd like, everyone in the home or office is a lot less comfortable. The plumbers and technicians at Magnolia Plumbing, Heating & Cooling are experienced in all aspects of plumbing and HVAC (heating, ventilation, and air conditioning) repair, replacement, installation, and maintenance. We also install and service water heaters and indoor air quality systems. When you want the services of a trained professional for your home or commercial property in the Washington, DC area, trust our team to get everything running smoothly.
For over 50 years, Magnolia Plumbing, Heating & Cooling has been serving the residents and companies of the Washington, DC area. We have dedicated ourselves not only to your comfort, but your wellbeing and quality of life. In those past 50 years, 3 generations of Magnolia family members have spent their lives always pushing the bar for excellence. Today, the accumulated expertise of all those years is passed on to our customers. When you hire us to do a job for you, you can rest assured that our work will be of the highest quality. We don't cut corners, and we never do less than our best work on every single job. We are prompt, courteous, and consummate professionals in all aspects of our job. No matter what you hire us for, your satisfaction is 100% guaranteed.

We know that sometimes you're going to have an emergency problem come up that just can't wait. We don't believe you should be punished for a situation that wasn't your fault. That's why we offer emergency service 24/7, 365 days a year. What's the point of having a plumbing and HVAC contractor if they're not going to show up when the problem actually occurs, right? We don't just offer our services when it's convenient for us to do so. We are at your service at all times because we care about your quality of life.

Contact Us

First Name

Last Name

Email

Phone Number

Comments
SUBMIT
Featured Promotions
$47.00 Tuneup Savings
on A/C or Furnace Tuneup.
Free Consultation!
For HVAC System Replacement
View All Promotions
Here's What Our
Clients Say:
Charles was very professional, even when our tenant would not comply as he was conducting the work.

- A. Muldrow

Read More Testimonials
Take our Satisfaction Survey
write a review
elocalelocal DC Sustainable Energy UtilityDC Sustainable Energy Utility DC Chamber of CommerceDC Chamber of Commerce Member Service RoundtableMember Service Roundtable BBBBBB
Angie's ListAngie's List Nexstar Network PHCC Washington GasWashington Gas

SEE MY WORK ON PORCH
For additional protection, we offer a maintenance agreement with a 15% discount on services, no emergency fees, and a free yearly inspection, among other benefits! This allows you to get the most out of your money, by ensuring that any unexpected problems (as most of them are) are handled at a reduced cost to you. Our maintenance agreement is a wise choice for anyone who is looking to cut down on their yearly maintenance costs, which should be everyone.

Don't just take our word for it, though! We are also backflow certified, Word Flex certified, Air Bound certified, members of the BBB, and highly rated on Angie's List. We go the extra mile to be respected by our peers, as well as our customers, because we take pride in what we do.

Need plumbing services? No problem! We offer video pipeline inspection, excavation, hydro jetting, septic tank pumping, gas fitting, repiping, and repair and replacement for all kinds of plumbing systems.

What about HVAC services? We offer those too. We provide a full range of HVAC services, including air conditioning, split units, humidifiers, dehumidifiers, air purifiers, carbon dioxide testing, duct services, and many more. No matter what kind of plumbing or HVAC services you require, there's an excellent chance that we offer them.

Ultimately, the most important part of any contractor's job is making sure that his or her customers are always happy with the work he or she does. Here at Magnolia Plumbing, Heating & Cooling, your comfort and satisfaction come before anything else. So, if you are in the market for a plumbing or HVAC contractor, whether residential or commercial, give us a call. We can help you with whatever you need. Can do. Will do. Well done. Guaranteed.
Magnolia Plumbing, Heating & Cooling Videos